Relief in Hilltowns over halt to pipeline
From the Daily Hampshire Gazette: Hilltowns relieved over Kinder Morgan's announcement regarding pipeline plans.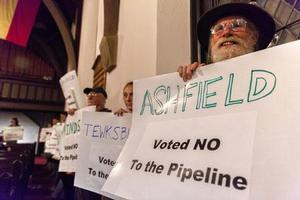 By FRAN RYAN - For the Gazette
Thursday, April 21, 2016
PLAINFIELD — There was relief in the Hilltowns Thursday after Kinder Morgan's announcement a day earlier that it will "suspend further work and expenditures" on a proposed 416-mile natural gas pipeline.
The Northeast Energy Direct project proposed by Kinder Morgan, parent company of Tennessee Gas Pipeline, would have carried natural gas, fracked from Pennsylvania shale gas fields to southern New Hampshire, passing through the town of Plainfield as well as communities in Berkshire and Franklin counties.
Douglas Premo, 67, and his wife, Liebe Coolidge, 68, live on a 12-acre farm on South Central Street in Plainfield. Premo said the proposed pipeline would have run very close to his house and he and Coolidge were "extremely relieved" when they heard that the project was halted.
"There had been some changes in exactly were the pipeline would go, but as we understood it, it would have gone either through or near our backyard," Premo said. "We are very excited and very happy to hear this news."
Premo said Kinder Morgan contacted him last year requesting to survey his property for the pipeline project and he rejected their request.
Fearing that their land might be taken by eminent domain, the couple was in the midst of planning to relocate.
"We had been making preparations to move, fixing up the house and looking for other locations, in or out of this area," Premo said. "It has only been a day, but now we are thinking twice about that, and we are hoping their decision not to go through with the pipeline is final."
Kinder Morgan officials stated that the decision to halt the project resulted from the failure of New England states to provide guarantees that local utility ratepayers would help pay the pipeline's $3.3 billion cost.
Plainfield Select Board member Judy Feeley said she was surprised to hear the news.
"We didn't really have any hint that this would happen but I am thrilled, not just for Plainfield, but for all of the towns along the line," Feeley said."It makes you think of all of the hard work that so many people engaged in, and you can't help but think that is what really turned the tide."
Opposition to the pipeline in the Hilltowns was vocal and widespread, with groups like No Fracked Gas in Mass and Plainfield Opposition to the Pipeline helping to organize residents working to block the project.
Katy Eiseman, co-founder of No Fracked Gas in Mass, said she is cautiously happy about the news.
"My property is in northwest Cummington right on the border with Plainfield and next to where they proposed to build compressor station," Eiseman said. "Even though the pipeline was not coming right through Cummington, we would be impacted."
State Rep. Stephen Kulik, D-Worthington, said he has been impressed with the informed and organized citizen activism and the forward-thinking leadership of many town officials who opposed the pipeline.
"This is obviously great news for the Hilltowns and all of the communities that would be affected by the pipeline," Kulik said. "It is also really good news for our state's energy policy because it would have increased our reliance on fossil fuels when we should be moving towards sustainable energy."
Eiseman noted there are still a lot of unknowns about the pipeline.
"The project is suspended, which is slightly ambiguous language, but it is clear that we have some breathing room," she said. "There is still a lot to watch for. Kinder Morgan could try to come back with something smaller and reconfigured, or they might not come back to this region at all."
Deerfield Ban
Meanwhile, in Deerfield, which emerged early as a hotbed of anti-pipeline action in the fall of 2014, the Board of Health's ban on all pipeline activity stands, said the town's lawyer, Cristobal Bonifaz of Conway, but another lawsuit brought by a group of county residents will not move forward.
Bonifaz said the court case arguing that granting eminent domain powers to a private company was unconstitutional if the gas transported along the resulting pipeline was destined for export is now moot, since work on the pipeline has been halted. The case was pending with the Federal Energy Regulatory Commission on behalf of residents from Plainfield, Northfield and Deerfield.
"If the pipeline is not happening, nothing else can go forward, none of my clients have a case," Bonifaz said. "My constitutional argument will have to wait for another day, with another client."
Recorder staff writer Tom Relihan contributed to this story.