Meet Steve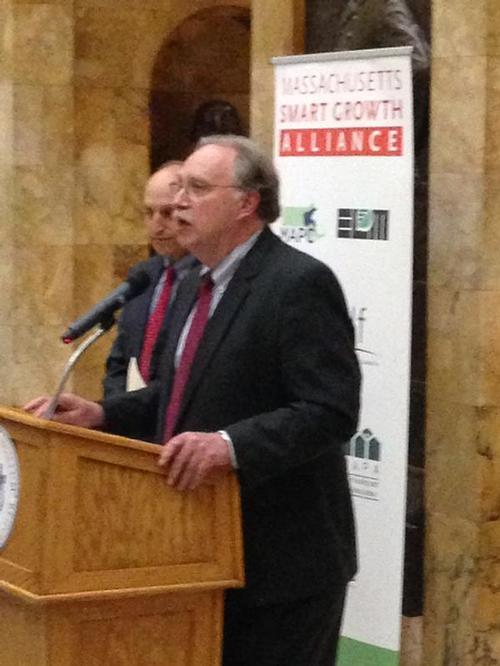 Representative Stephen Kulik (D-Worthington) was first elected to the Massachusetts House of Representatives in October, 1993. He is now retired.
Prior to entering the legislature, Steve served 11 years as a selectman in the town of Worthington, where he was active in many regional and statewide organizations promoting the interests of municipal government, especially small towns. He is a past president of the Massachusetts Selectmen's Association and the Massachusetts Municipal Association.
During his time in the legislature, Steve had been a leader on issues of importance to his district, including public education, the environment and energy, economic development, health care, food and agricultural policy, and municipal government. Among his many legislative accomplishments, he had authored successful legislation to reform health insurance for municipal workers, strengthen and fund the Community Preservation Act (CPA), establish a statewide Food Policy Council, and create a state tax credit for donations of land for open space and conservation. Steve was also a member of the Dairy Farm Task Force, which wrote and passed major legislation in 2007 to stabilize and strengthen the state's dairy farms.
Steve was the Vice Chairman of the House Committee on Ways and Means, an influential position with responsibilities that include helping to craft the state's annual budget. As Vice-Chair, he sat on the six-member conference committee of the House and Senate which reconciled the two versions of the budget for presentation to the full legislature. He has also served as a negotiator for the House on many other conference committees, including the 2014 Transportation Bond which provides a multi-year plan for a $13 billion investment in the state's transportation infrastructure.
Steve was also a member of several legislative caucuses which focus on issues of importance to western Massachusetts. He founded the Small Town and Rural Caucus, and was a member of the Regional School Caucus, the Regional Transportation Caucus, the Manufacturing Caucus, and the Progressive Caucus. He was also active in several regional and national legislative organizations, including serving on the executive committee of the Council of State Governments/ Eastern Regional Conference (CSG/ERC). As part of CSG/ERC, he was an active member of Northeast States for Agricultural Stewardship (NSAS). He was also the vice-chair of State Agriculture and Rural Leaders (SARL), a national group of legislators who worked on state and federal policy issues regarding agriculture, water resources, environment, trade, and other issues of importance to rural communities.
Steve and his wife, Suzanne, live in Worthington, where they raised their two adult children, Sam and Elizabeth.